Vamp tells the frightful tale of two freshmen Keith (Chris Peacemaker) and his buddy AJ (Robert Rusler) trying to play it cool with fraternity. Whilst talking a good game, AJ puts his foot in it' when he admits to the frat leader that he could get them; anything! Much to Keith's chagrin they're tasked with finding a stripper for their 'brothers' frat party.
After little success at finding local, they guys enlist the help of the overwhelming/loaded loaner Duncan (Gedde Watanabe), Duncan agrees to lend them a car to drive to a strip joint in the city – on the condition; he can come with them.
When they reach their destination; After Dark strip club they're allured in by beautiful women, when they're introduced to the alluring Katrina (Grace Jones) – they soon realise – 'they've bitten off more than they can chew'!
First time feature film director Richard Wenk delivers a delightful slice of 80's horror comedy! It's like the mixture of Van Wilder/Ferris Bueller's Day Off meets Fright Night – I know Weird Science and From Dusk 'til Dawn are the obvious comparisons, but I can see the confidence shining through our leading characters really channels the likes of Ryan Reynolds Van Wilder and Broderick's portrayal of Ferris Bueller. It was my first time watching Vamp, my history with 80's horror/comedy was kept to a minimum unless you count for the last couple Police Academy movies.
Interject the lovable, bubble-gum sweet Dedee Pfeiffer as After Dark waitress; 'Amaretto', a character who as a past relation with Keith – but for some unforgivable reason he doesn't remember her!
This will sound a little silly if you haven't seen Vamp, but I loved the funky neon lighting! Rather than turning a drab street lit white, the city walls and buildings were coated in bright pink and green lights which makes for some trippy visuals. Think of lighting and colour schemes you saw in the likes of Batman Forever/Batman & Robin – yes that loud.
Arrow Home Video have suited and booted Vamp into the future by celebrating the films 30 year anniversary with a Blu-ray and DVD release with new special features. The main joy is of the 45 minute documentary One of those Nights: The Making of Vamp – which showed us the cast, crew and director Richard Wenk quip back to their memories of being on set – from the sounds of it the production was more entertaining than the film and everyone interview seemed to have had their own story about working with the Grace Jones.
Other special features include Richard Wenks directorial debut; Dracula Bites the Big Apple (1979), a 22 minute short film from the late seventies. The standard set of Trailers, TV Spots, a wealthy Image Gallery (everything from stills to newspaper clippings) and some rather steamy Rehearsal footage where our director is sexually accosted by an overzealous Grace Jones.
Vamp was a pleasant surprise of a film – I didn't have high hopes going into something I was completely unaware of and noticing Grace Jones attachment actually detracted my initial expectations going in. The special features were pretty decent, but it's the joy of the cast talking lovingly of the film that just pushed my enjoyment of this experience as a whole to the next level.
Film 4/5
Blu-Ray 4/5
Overall Release: 8/10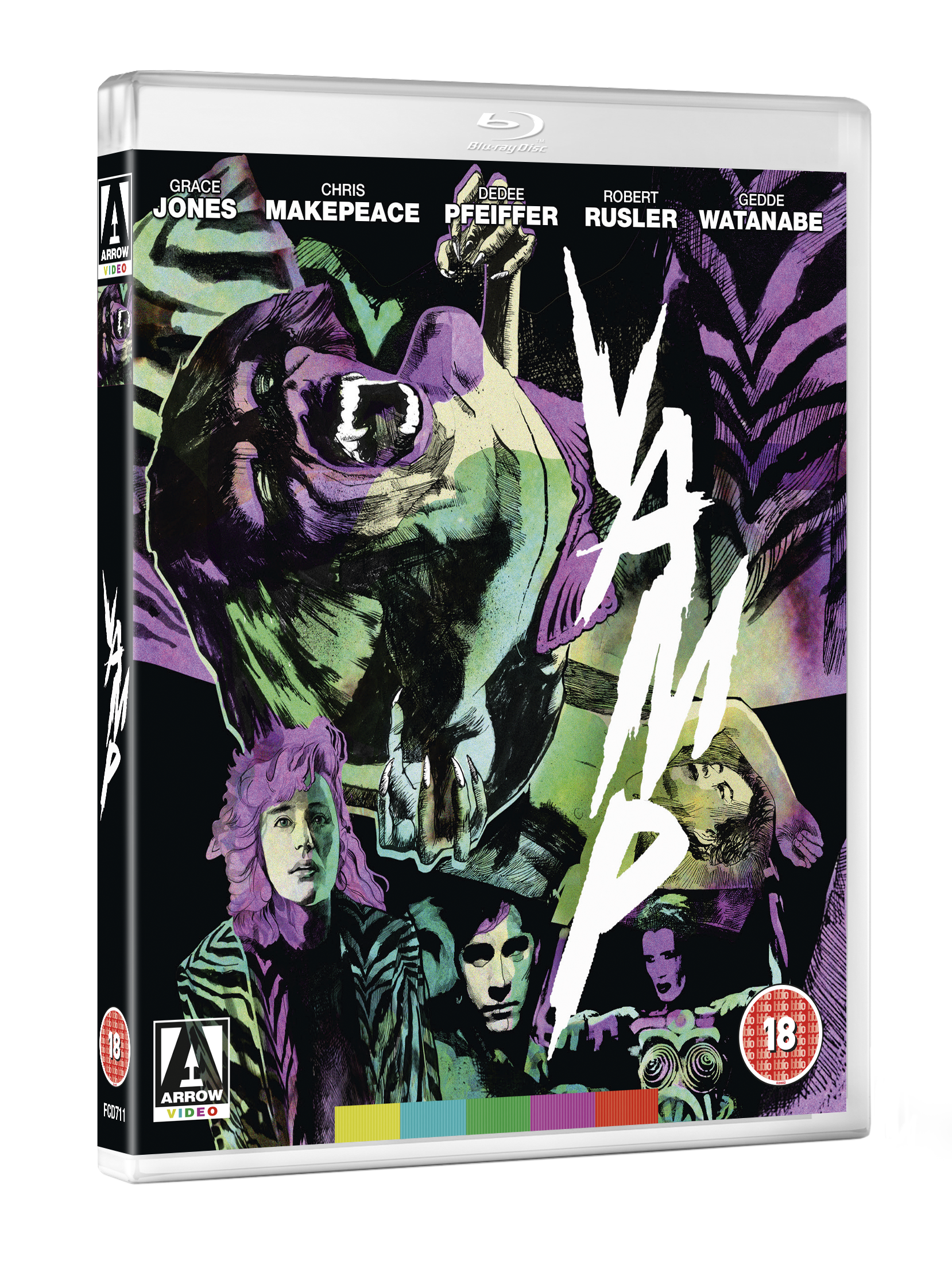 Vamp On DVD & Blu-Ray from Monday 3rd Oct. 2016.